Independence Seaport Museum is happy to announce that we are launching our waterfront programming on May 28!  Read on for on-water options and important information to know before joining us!  Sea you on the water.
Ways to Get Out on the Water This Season
There are plenty of ways to get out on the water with Independence Seaport Museum! Options include: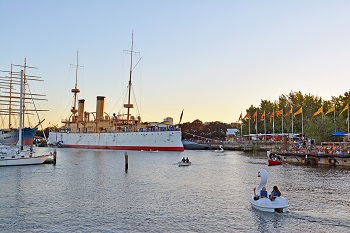 Kayak Excursions: Feeling adventurous?  Register for one of several kayaking excursions to various destinations around Philadelphia.  With varying levels of difficulty, there is something for everyone!
Museum Members also receive special discounts and offers for on-water programming at ISM.
Not a member? Sign up today!
Leadership & Team Building Retreats - BRAND NEW!
Looking for teambuilding and leadership development programs that make a splash?  Spend the day on the water while fine-tuning your communication, collaboration, and other 21st Century skills.  And for all you landlubbers, try our land-based workshops!
At Independence Seaport Museum, our teambuilding workshops and retreats are a one-of-a-kind on-water experience that will transform coworkers into team members.  Whether your pick a workshop for the most apprehensive sailor of a full-day retreat for your fiercest swashbuckler, your crew will leave connected and ready to thrive in the office.
Important Information to Know for Summer 2021
Independence Seaport Museum has implemented new procedures for visitors prior to and during their visit.  Please scroll down for important information as you plan your trip to our docks.
By participating in an Independence Seaport Museum program, participants voluntarily assume all risks related to potential exposure to COVID-19 in or about Independence Seaport Museum.  The Museum has modified its experience to adhere to safety guidelines and protocol.
Is Paddle Penn's Landing opening this season?  
Yes!  Your household can rent a Swan, Dragon, Duck, or Flamingo, a rowboat, or a kayak for a 30-minute session in our boat basin.
What days are you offering waterfront programming?  
Paddle Penn's Landing will be open 7 days a week (weather permitting), starting May 28, 2021!  Kayak excursions will be offered most weekends from May-September.  If conditions allow, additional dates may be added in the fall.
Do we need to purchase PPL tickets in advance?  
No, PPL tickets don't need to purchased in advance, however, you must purchase tickets in advance for kayak excursions. 
Keeping it Safe at the Seaport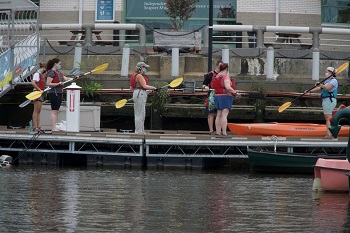 Warmer weather means the return of Independence Seaport Museum's on-water fun, and it is back with a vengeance this season, with safety measures in place to ensure an enjoyable experience for all.  Capacity limits have been enacted for kayak excursions and for Paddle Penn's Landing we've started new efforts to reduce the line, which would ensure social distancing on both the docks and water.
While the museum and our dock staff is doing everything possible to keep participants safe, we are asking visitors to do their part too.  Masks are required to be worn during all programming.  And, if you are feeling under the weather, we ask you be mindful of others and stay home. 
Immerse yourself in award-winning and interactive exhibits and climb aboard the oldest floating steel warship in the world on Cruiser Olympia and submerge yourself aboard the World War II-era Submarine Becuna.