Independence Seaport Museum is happy to announce that our 2023 on-water season will start with a splash on Thursday, May 25, with the opening of Paddle Penn's Landing! 
Ways to Get Out on the Water This Season
There are plenty of ways to get out on the water with Independence Seaport Museum! Options include: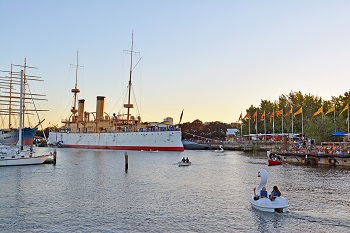 Kayak Excursions: Feeling adventurous?  Register for one of several kayaking excursions to various destinations around Philadelphia.  With varying levels of difficulty, there is something for everyone!
Museum Members also receive special discounts and offers for on-water programming at ISM.  Not a member? Sign up today!
$5 off Kayak Excursions.
Optional Kayak Club add-on.
Paddle Penn's Landing discounts and members-only days.
Important Information to Know for Summer 2023
Independence Seaport Museum has implemented new procedures for visitors prior to and during their visit. Please scroll down for important information as you plan your trip to our docks.
By participating in an Independence Seaport Museum program, participants voluntarily assume all risks related to potential exposure to COVID-19 in or about Independence Seaport Museum. The Museum has modified its experience to adhere to safety guidelines and protocol.
Is Paddle Penn's Landing opening this season?
Yes! You can rent a small or large paddle boat or a rowboat for a 30-minute session in our boat basin.
What days are you offering waterfront programming?
Paddle Penn's Landing will be open Fridays – Saturdays (weather permitting) starting Memorial Day Weekend! On Fridays, PPL will be open from 3 PM until dusk, and on Saturdays and Sundays, PPL will be open from 12 PM until dusk.
Kayak excursions will be offered most weekends from June – October.
Do we need to purchase PPL tickets in advance?
Please plan on purchasing your PPL tickets in advance. Limited walk-up tickets may be available on a first-come, first-serve basis, but we STRONGLY recommend purchasing your tickets before your trip. Please plan to check in at our life jacket stand 15 minutes prior to your scheduled departure, or your ticket time may be forfeited.
What will Paddle Penn's Landing cost?
Small paddle boats cost $25 for a 30-minute rental and can accommodate up to three people or a combined weight of 600 lbs.
Large paddle boats cost $50 for a 30-minute rental and can accommodate up to five people or a combined weight of 800 lbs.
Rowboats cost $30 for a 30-minutes and can accommodate up to three people or a combined weight of 450 lbs.
Immerse yourself in award-winning and interactive exhibits and climb aboard the oldest floating steel warship in the world on Cruiser Olympia and submerge yourself aboard the World War II-era Submarine Becuna.