Enjoy Independence Seaport Museum from home, with our online collections, activities, presentations, and more all year-long!
Dive into Philadelphia's maritime history, the life of a sailor, the beginnings of the U.S. Navy and more by searching our 
online catalog
, anywhere and anytime! Collections at Independence Seaport Museum span from the 18th century through the present and touch upon numerous topics, from social and economic issues during the nation's founding to the effects of the Industrial Revolution to the Delaware River today.
Help the Independence Seaport Museum make sure our local waterways and environment as a whole stay healthy by using this BINGO card as a guide that outlines easy changes you can make in your daily lives.  By doing this now, it helps preserve our waterways and environment for future generations. 
If you haven't gotten a chance to see 
Light on Steel on Water 
, the newest installation in our Waterways Gallery, in person, now you can check it out online! 
Click here
 to explore the exhibit. The pieces featured in the exhibit are available for purchase; for more information, contact 
reception@wayneart.org
.
Dive into our exhibit 
River Alive! 
and explore the Delaware River watershed, right from your own home! 
Click here
 to download our digital curriculum guide for grades 9-12.
The port of Philadelphia plays an important role in the import and export of goods around the world. 
Click here
 to explore the following presentation for comparisons of U.S. ports and the Philly port on things like top import/export and trade partners. Anything surprise you? Just released, an updated presentation as of May 2020.  
Click here
 to compare to what's above.
Why Care About the Delaware River?
Did you know any time you turn on your tap you're using water from the Delaware River? 
Click here
 to learn more about how the river serves our community and how you can protect our waterways.
How can you tell the difference between phytoplankton and zooplankton? Why are plankton important members of our ecosystem? How do they benefit the Delaware River watershed? Learn how to classify plankton and fill in coloring pages in this fun activity! 
Click here.
The Museum Honors the 75th Anniversary of V-J Day
September 2, 2020 marked the 75th Anniversary of Japan's unconditional surrender aboard USS Missouri.  The Independence Seaport Museum collected various submarine facts to highlight the important role they played during World War II.  While these facts (along with videos) were shared on social media, you can see the 8 slide presentation here.
Want to submerge yourself in more history about Submarine 
Becuna
?  Or maybe you want to take a deep dive into her GUPPY conversion or her service post World War II.  Whatever you are interested in we have you covered with this 
Becuna
 PowerPoint presentation.  
Click here
 to download.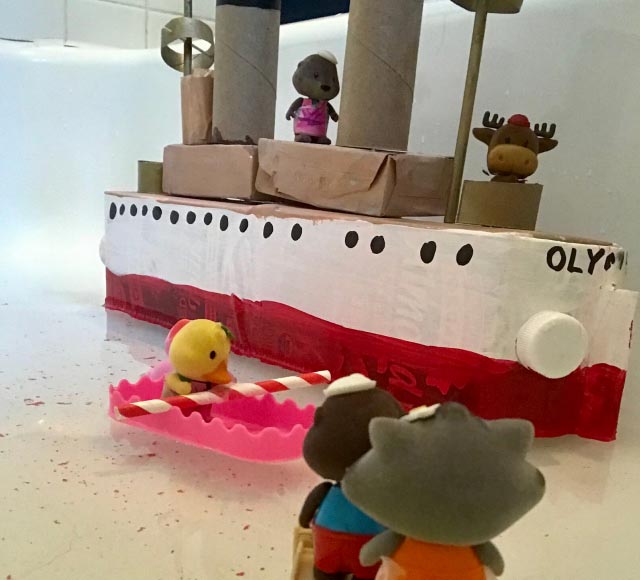 Have extra recycling piling up? Upcycle the materials you already have at home to create your own Cruiser Olympia and more in our new arts and crafts series, Bathtub Boats! Check back each week for a new project.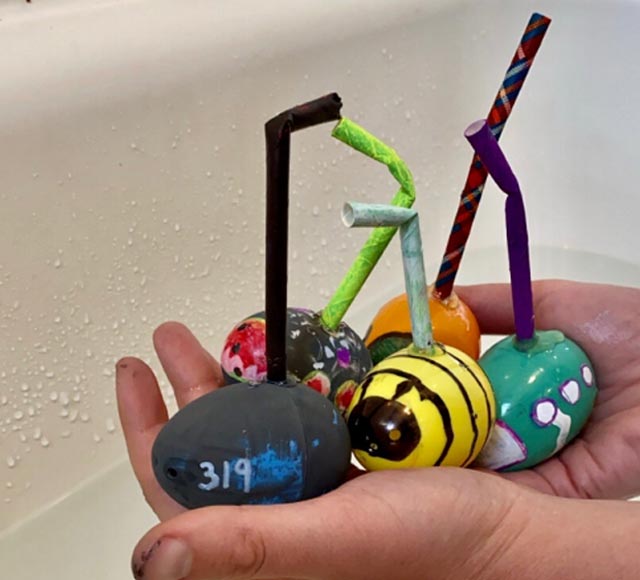 What is stay-home fun without coloring? Download and print these coloring sheets of Cruiser Olympia, butterflies, mussels, and more!
River Alive! Matching Game
Bring a little bit of our award-winning 
River Alive!
 exhibit right into your home with our 
River Alive!
 Matching Game.  Designed with our exhibit critters (the River Otter is our favorite!), this is a fun game that the whole family can enjoy.  Simply print the document below double sided and then cut into cards.  After that, let the games begin.
Click here to download the Matching Game.
Want to build your very own piece of history? Straight from our collections we have scanned a paper model of 
Olympia 
for you to build at home. This little model was
originally printed as a supplement to the Philadelphia Press newspaper in 1896! We recommend printing full color on cardstock or heavy paper but regular copy paper will do. This model can be printed on standard 8.5×11 paper or for a larger size, 11×17. Cut out each piece with good, sharp scissors, paste with plain white glue, and with a little patience you'll have a fine model of 
Olympia 
to proudly display. *Note, this model can be completed following the original instructions with a straight edged ruler, hobby knife, scissors and white glue. For rolling the funnels and turrets, it is recommended to use a pencil or any other rounded object to roll those pieces.
Click here to download your own Olympia model.
Gather your crew and answer trivia questions to test your knowledge about Cruiser Olympia, Submarine Becuna and Schooner Diligence with these bingo cards!
Wishing you could transport yourself aboard Submarine Becuna during your next Zoom meeting? Want to enjoy a scenic view beneath the Ben Franklin Bridge at your virtual happy hour? Try out one of our Zoom virtual backgrounds and look like you're wading through eel grass in River Alive!, in command aboard Cruiser Olympia, kayaking out to Graffiti Pier and more! Download them below and upload them during your next Zoom meeting!
For more daily content, follow us on social media at @phillyseaport on Facebook, Twitter and Instagram. For video tours aboard Cruiser Olympia and Submarine Becuna, tutorials for at-home crafts, and more, subscribe to our YouTube channel.
To support these digital activities and future resources we are continuing to create to bring the Independence Seaport Museum to you, please consider making a gift today.
Immerse yourself in award-winning and interactive exhibits and climb aboard the oldest floating steel warship in the world on Cruiser Olympia and submerge yourself aboard the World War II-era Submarine Becuna.